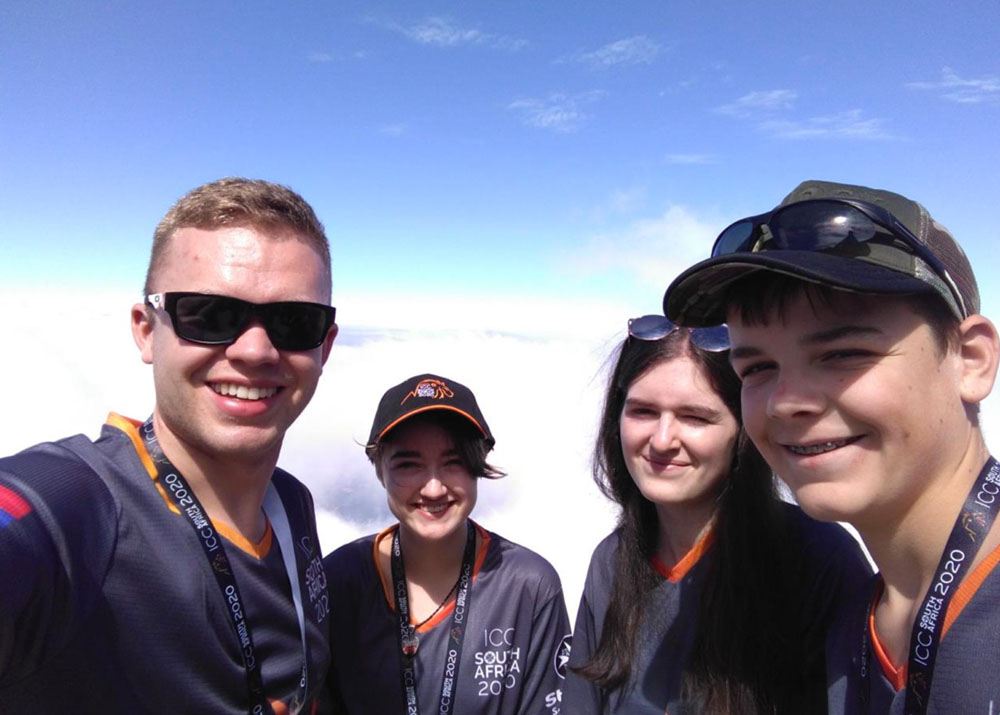 #SJANIYouth attend the International Cadet Camp 2020!
The St John International Cadet Camp 2020 (ICC2020) was hosted in South Africa from 1 – 13 January. Three cadets from Northern Ireland accompanied by their Regional Youth Manager had the opportunity to represent Northern Ireland at this once in a lifetime cultural event.
Alex Dougherty, Josh Oliver and Kathryn Parker accompanied by Dr Andrew Kerr joined more than 200 cadets by starting their new year in South Africa!
Participants came from St John worldwide including Canada, England, Kenya, Mauritius, New Zealand, South Africa, Sri Lanka and Wales.
The camp gave opportunities for cultural exchange and building lifelong friendship from all corners of the world. Participants took part in a number of activities and also completed a community service project in a local school helping to establish a library and performing maintenance tasks. The group visited areas of significance in South African history including Robben Island and the District Six Museum in Cape Town.
Through activities ICC 2020 supported young people to develop new skills enabling them to become active global citizens who are creating positive change in communities around the world. The young people created lifelong memories and friends.
"The opportunity to learn about one another's cultures and to celebrate the shared values of St John Ambulance is what ICC is all about" Dr Andrew Kerr, SJA NI Regional Youth Manager.
Why not become a lifesaver with St John Ambulance NI and learn amazing new skills? Anyone aged 7-10 years old can join one of our many Badger Setts, which operate throughout Northern Ireland. Young people aged 10–17 can join one of our Cadet units. These are a great way for teens and young people to take part in volunteer work and learn valuable transferable life skills.
St John Ambulance NI also require inspiring volunteers to help young people aged 7-17 develop life-saving skills and unlock their full potential through first aid and much more.
Are you up to the challenge?
You'll help us deliver an inclusive, accessible and inspiring programme that meets the aspirations and needs of young people and will be supported every step of the way by our experienced Youth Volunteer Teams.
If you would like to find out more about volunteering as a youth leader within St John Ambulance please email: