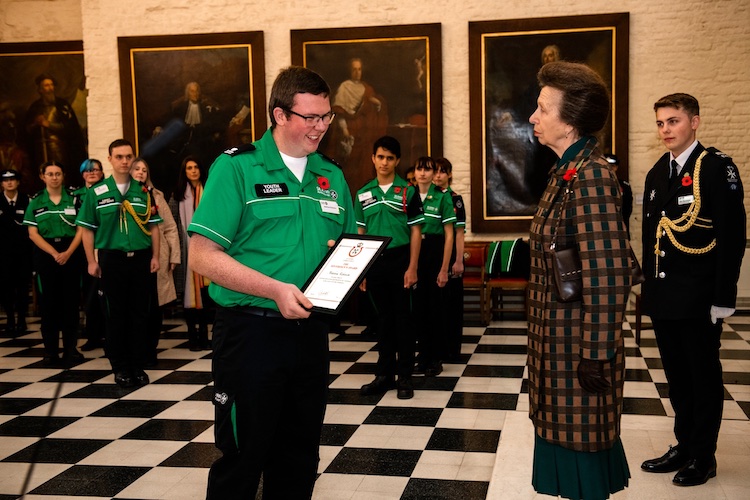 Sovereign's Award for St John Ambulance (NI) volunteer Matthew Robinson
Matthew Robinson from Carrowdore, receives his Sovereign's Award, the premier achievement for young people within the Order of St John worldwide.
The award, which includes a certificate personally signed by Her Majesty Queen Elizabeth II, is given to young St John Ambulance volunteers in recognition of outstanding work in the areas of personal development, benefit to St John and benefit to their community. Only 10 awards are issued each year internationally and Matthew is only the second person ever to receive this award from Northern Ireland.
Matthew who is studying at Stranmillis University College, joined St John Ambulance as a Cadet in 2014. During his time as a Cadet, he completed his Grand Prior's Award, the ultimate Cadet achievement demonstrating commitment, compassion, and self-improvement. He subsequently was selected as Northern Ireland Cadet of the Year. Alongside these personal achievements, Matthew has developed as an individual and contributed significantly towards the youth programme within St John Ambulance.
Matthew was instrumental in developing the youth participation strategy within St John Ambulance (NI) and currently holds the position of Regional Youth Voice Lead. His experience from his time volunteering with the Northern Ireland Commissioner for Children and Young People (NICCY) Youth Forum was key in shaping the strategy within the organisation. Most recently Matthew has been involved in developing the AHEAD programme, a new concept for St John Ambulance Northern Ireland in working with young people.
Matthew said:
"I am thrilled to receive this award, but feel it is important to thank all the volunteers and staff for all the opportunities offered to me as a young person within St John Ambulance".
Well done to Matthew from all your colleagues within the Youth Team.